Independent Audiologists lead the way in customer care for hearing aid users
We are very proud to share that Which? has published its findings for the best hearing aid providers for 2019, and that Independent Audiologists have come out on top.
Countrywide Hearing work with a network of highly skilled, handpicked independent audiologists to facilitate our hearing aid replacement service.
Our choice to only work with independent audiologists as opposed to high street companies is because we strongly believe that the level of customer care provided by independent specialists is of the highest quality.  It is fantastic news for us then, that they have been voted the best by the people who really matter; the customers. 
Which? surveyed more than 3100 customers, asking them about their experiences of buying and wearing hearing aids. Their questions surrounded the best quality hearing tests, the most product choice and those that deliver the best value for money, among other categories such as appearance and suitability for the customer. To see the full report, please click here.
Independent Audiologists scored consistently higher customer scores than the likes of Boots, Specsavers and Hidden Hearing. In fact, they won by an impressive 87%!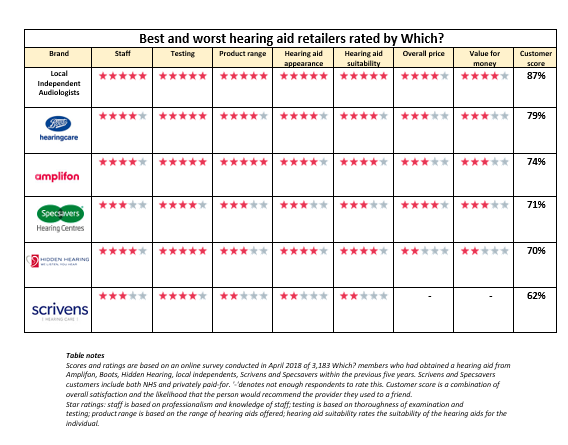 Do you need Hearing Aids?
Whether you are making a claim on your insurance or just looking for the best solution for you, Countrywide Hearing are here to help.
Countrywide Hearing offer free, no obligation hearing tests and consultations, either in the comfort of your home or at a local clinic that suits you. As we are independent, we choose to work with every UK manufacturer so we can offer you a full range of products, unlike our competitors. We also offer very competitive prices that include comprehensive aftercare for the lifetime of the product.
If you would like more information, or to find out where your nearest specialist is please call us on 0330 016 5110.